Blocklift Gas Struts
The Camloc range of Blocklift gas struts work like conventional gas struts with the addition of an internal locking mechanism that can be stopped immediately in any position. This locking mechanism only allows the strut to move while the release pin, located on either the end of the piston rod or tube end, is activated.
Most Blocklift gas struts are available in 304 and 316L stainless steel.
Hydraulic, cable and lever release systems are available for Blocklift gas struts.
Excellent way of moving an application to any position at the discretion of the operator.
Allows a load to be applied to the application while it is locked in any of the infinite locked positions.

Benefits
Blocklifts are excellent way of moving an application to any position at the discretion of the operator, the blocklifts will also allow a load to be applied to the application while it is locked in any of the infinite locked positions.
Typical applications - vehicle seating, back rest adjustment, adjustable hospital beds, height adjustable tables & desks, adjustments on wheelchairs.
Cam-Shoc Damper
Camloc have developed a full range of hydraulic dampers to absorb and control motion in an array of applications. The basic rod and tube assembly has been adapted to include oil-filled and gassed emulsion filled variations to provide optimum damping in extension, compression, or in both directions. The wide range of sizes and mounting possibilities can provide the ideal damping solution, all in one self-contained unit.
The JET PRESS technical team can advise you on the best configuration to fit your requirements. Lightweight hatches, medical beds, vehicle racks and seating can all benefit from the broad range of dampers we can offer. Even blast mitigation for military applications can be achieved at the heavy duty end of the range.
Carbon steel and stainless steel versions are available to suit the environmental conditions of your application. The operating range of -40*C to 100*C allows for large changes in ambient temperature with no reduction in effective absorbtion. Our custom design service means that you get exactly what you need, without compromise.
Maintenance-free, fit-and-forget units with durability as standard, the Cam-Shoc range, partnered with our technical support, are easily absorbed into your design and we'll make sure the process through to fitting runs smoothly.
Stop & Stay Gas Struts
Stop & Stay gas struts enable multi-position holding of a counter balanced weight over the entire stroke of the gas strut.
Incorporated collet which once adjusted to suit the application allows for variable friction settings.
Provides a 'stick-slip' operation of the gas strut.
Gas strut force is pre-set to carry the weight of the application in the normal manner.
Benefits
Stop and stay gas struts can be beneficial when operators of different heights are opening and closing a lid as a taller operator can open the application so they do not bump their head but also a shorter operator can open a lid to a position which they can still reach when they need to close the application.
Typical applications - canopies, monitor arms, acoustic hoods, delicatessen counters, sunbeds and many more.
Camloc's Stainless Steel
Vari-Lift
Camloc's Stainless Steel gas struts give increased corrosion resistance in harsh and clean environments.
Manufactured in 316L stainless steel.
Suited for harsh environments.
Benefits
You have all the benefits of a standard Swift & Sure gas strut, but with the added benefit of a high corrosion resistance allowing these gas struts to be used in some harsh environments where the standard Swift & Sure gas strut would be at a greater risk of suffering from corrosion issues.
Typical applications - marine engine covers, doors, hatches, pharmaceutical and medical industries.

How does a gas strut work?
A gas strut or gas spring is a sealed energy source containing an inert gas (nitrogen) and oil. Being self-contained units these useful devices require no power source or maintenance.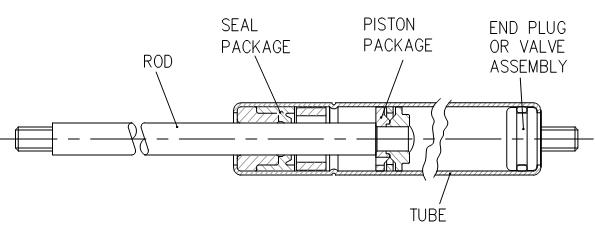 Nitrogen is forced under pressure into the cylinder of the unit. The internal pressure exceeds atmospheric pressure and generates an outward force on the rod, making the rod of the unit extend.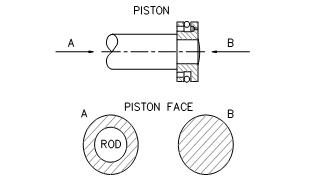 With the pressure being equal on both sides of the piston, there is more force acting in direction 'B' than in direction 'A'. This forces the rod of the gas spring out.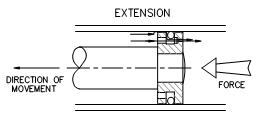 When the rod is compressed into the cylinder, the internal pressure and the output force increase according to the volume displaced by the rod. On extension or compression, gas is metered from one side of the piston to the other via a small orifice.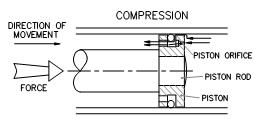 Speak to our experts
To help with selecting the right gas spring for your application please call to speak to one of our experts on

+441623 551 800

or submit the form. Our team is always happy to help you find the best gas spring for your application and give you any additional information you require.